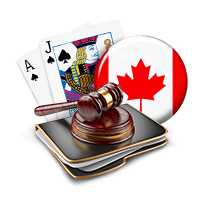 Legal Online Blackjack In Canada
Canada is pretty vague with their legal online blackjack gambling laws, but it's actually among the most lenient countries in the world when it comes to online gambling.
That doesn't mean that there aren't any legal repercussions in Canada, though. If you're wondering about online blackjack legality in Canada, you came to the right place.
Is It Legal To Play At International Blackjack Casinos In Canada?
Yes, it is. In Canada, site operators are not allowed to run online casinos, but Canadian citizens are allowed to play legal online blackjack at international gambling sites. Since there are no caveats against banking deposits or withdrawals (including money going in and out of Canadian currency) after playing legal blackjack, Canadians can play legal online blackjack at any international casino of their choosing. You just need to ensure that the site offers a banking option that accepts Canadian currency and allows you to withdraw it anytime you want.
In a nutshell, Canadian law makes online blackjack legal, only if you're playing at a foreign online casino or one of Canada's state-run casinos.
However, if you want to play legal blackjack online at a foreign casino, you still have to follow Canadian laws, such as the minimum legal gambling age in your province.
Every site that we recommend offers:
The highest new player bonuses on the internet
The latest software with the best blackjack games in the business
Secure banking options and 24/7 customer support
How are legal online blackjack casinos regulated?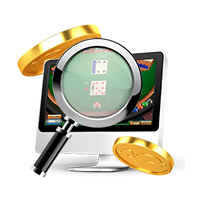 Each casino is regulated by the country where it is located. That's why you should be careful while playing legal blackjack online at international casinos.
Many major countries have strict online gambling laws, so a lot of online casinos are run from small island countries, like Malta, Costa Rica, and the Isle of Man.
To protect yourself, it's always a good idea to check whether or not a online blackjack casino is licensed, legal and regulated before signing up as a member there and playing online blackjack. Legally, online casinos are required to be licensed within the jurisdiction where they conduct business. If an online blackjack casino does not list the location where they are licensed, run for the hills. If you want to go the extra mile (and you should), find the casino's terms and conditions and read them thoroughly before deciding to play online blackjack at that site.
Actually, we did some of the work for you. We rounded up some of the most trustworthy legal online blackjack sites.
Can You Make Deposits Aand Withdrawals?
"We actually came up with a list of some legal, reputable online casinos that accept Canadian currency.
Yes, you can. It might be a tricky, though, because international online casinos come with their own local currencies. However, a lot of reputable international Internet casinos support a variety of currencies, including Canadian currency. We actually came up with a list of some legal, reputable online casinos that accept Canadian currency.
Changes In Canadian Legislation
Because people play legal online blackjack at casinos based in foreign countries, a lot, and we mean a lot, of money leaks out of the country. The Canadian government realized that, and they have just recently started to do something to keep some of that money in the country. Their solution was to open up a couple of Canadian state-run online casinos in 2010.
Canadian State-run Online Casinos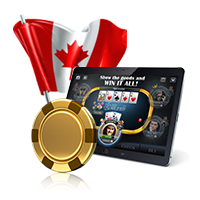 There are over 100 casinos in Canada, and only a couple of them are Canadian state-run online blackjack casinos. Whether you're looking to play poker, slots, roulette, any other casino game, or even online blackjack, legal Canadian online casinos are available. They're either run by the government or people in the Kahnawake Mohawk Territory (an Indian reserve in Quebec, Canada). Let's take a look at the Canadian state-run online casinos here:
PlayNow: Owned and operated by British Columbia Lottery Corporation
Espacejeux.com: Owned and operated by Loto Quebec
The bottom line is that as a Canadian, you can play legal online blackjack at one of the Canadian state-run online casinos or a reputable international casino. Isn't it great that you can play legal blackjack in your own country now?
Legal Frequently Asked Questions
It's understandable to have legality questions about online gambling in Canada. To ease any concerns, we've compiled just about everything you might need to know about the legal ins and outs of online casinos.
Can I legally play online blackjack in Canada?
Yes. There is no law which specifically states you cannot play blackjack, or any other real money game, at an online casino. In fact, Canada has some of the most welcoming gambling laws in the world. That said you still must be of legal age.
Does this apply across all states?
While the U.S. has different online gambling laws from state to state, this is not the case in Canada. No matter where you live in the country, you will be able to freely use any legitimate online casino that you want to.
At what age can I play legally?
In the majority of Canadian provinces, the legal betting age is 19. However, in Alberta, Quebec and Manitoba, you only have to be 18 to gamble. These laws apply to both land-based and online gambling.
How is it regulated?
Unlike most laws, gambling is controlled by each province separately rather than by the federal government. This means that while it is generally understood that gambling is 100 percent legal in Canada, it is still worth looking over the specific laws for each province.
Do I have to pay taxes on any winnings?
There are no reported cases of Canadian citizens being taxed for being a "casual" gambler. However, there have been a few cases of people being taxed when it was determined that they were professional gamblers and therefore making an income for their business. The law seems to imply that if you are not a professional gambler, your gambling winnings will not be taxed.