Blackjack Switch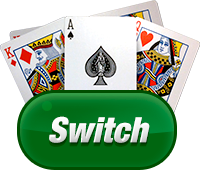 Powered by Playtech, the Blackjack Switch game is a fun gambling variant on the classic table game available now at Canadian online casinos.
Blackjack Switch lets players play two hands at the same time. But that's not all - once dealt, CA players have the opportunity to swap the top cards of each hand to form two new hands.
It's a great game that mixes up the (cards) and the action to form a neat gaming alternative to the old-fashioned American and European formats of Blackjack.
Try Blackjack Switch online:
Gamble with two hands at once
Solid Playtech software behind the app
A fun alternative to regular Blackjack variants
Blackjack Switch Rules
At the start of the Blackjack Switch game, following an initial bet players are dealt two hands containing two cards face up. The dealer is dealt his usual hand of one up-card and one card face down.
Here's the twist: Canadian real-money players have the option to swap their top two face cards to form two brand new hands. The betting continues as usual, with players able to split hands or double down.
The hand is over if the dealer busts (goes over 21) or stands and is beaten by the player's hand.
There are some special rules in Blackjack Switch to be aware of:
Dealer Gets 21: If the dealer gets 21 the bet is pushed.
Playtech gaming software brings blackjack players a great game of Switch, whereby two hands are dealt at once and players can actually switch cards to increase their odds.
Hit on Soft 17: If the dealer gets a soft 17 (e.g. an ace and a 6) he is forced to hit.
Split Aces: If the player splits aces and hits a 10 on one of them, he makes 21, not a blackjack.
Double Downs: A double-down is allowed after a player splits.
Insurance: As in American Blackjack, an Insurance bet is permitted in the case of the dealer getting a blackjack.
Blackjack Switch Side Bets
Look out for bonus payouts in Blackjack Switch online too. Side bets can be made before the deal, and are awarded depending on the player's hand or hands.
An even-money payout is awarded for a pair before the deal.
A 5/1 payout is dished out if a player gets three of a kind in a hand.
8/1 is paid if the player gets two pairs in their two hands.
Finally, a juicy 40/1 payout is given if you manage to hit 4-of-a-kind across your two hands.
Blackjack Switch Strategy
A good piece of Blackjack Switch practice is to aim for a blackjack whenever you can. So, when switching your top cards, go for a blackjack straight away. Blackjacks only pay even-money, but they can also be pushed against the dealer if he makes a total of 21.
Look to set up splits as well. Switching a top card to make a pair on one hand is a good move to then split the hand. However, only split if it's a pair that has a chance of making 20 or 21 (so, Aces or picture cards).
Bear in mind the bonus payouts if you do get dealt a low pair, however. 5/1 is paid for three-of-a-kind, so if you do have a pair of twos or threes, avoid splitting them and try to hit to make trips instead.
Print a Cheat Sheet
As with any interesting variant of blackjack, it's worth finding and printing out a cheat sheet for Blackjack Switch. With this you will discover the recommended plays in any situation of a Blackjack Switch game.
With the explosion in casino Blackjack on the Internet, Canadian gamblers can enjoy top real-cash games at more places than ever.
And with a basic grasp of the Blackjack Switch rules, it's possible to come out a big winner at the end of the day.
Frequently Asked Questions
What is Blackjack Switch?
Blackjack Switch is one of the newer variants of an all-time favourite table game developed by Geoff Hall. It is available to Canadian players at some of the best online casinos and blackjack sites.
How is it played?
Blackjack Switch is exactly as it says, you can switch up your hands in the middle of a hand. You begin with two hands, and will be given the opportunity to switch your top cards to create two new winning hands.
What are the odds like?
A blackjack pays 1:1, putting it a little lower than traditional blackjack games. This is due to the greater chance that you have when switching cards. The house edge sits at 2.55%.
Is there a real money option online?
Yes. You'll be able to find real money Blackjack Switch at all of our top rated online casinos, as well as many other popular blackjack variants.
Where can I play it?
You can play it at some awesome casino sites that accept Canadian players. No need to look too far, the best are listed right here.
How much is it possible to win?
There have been some huge winnings as a result of Blackjack Switch but it is good to remember that the house edge is upwards of 0.36%. Still, blackjack has the best odds when it comes to classic table casino games and Switch is right up there with the highest RTP%.
Can I use a system?
You can use a system and some of the better options are listed on our blackjack sites. There is nothing that prohibits you from using a system. Some work better than others.
How does it compare to other variations?
It doesn't pay quite as much for a blackjack but, considering you can maneuver your cards that stands to reason. It's an exciting game and keeps players on their toes, so in many ways it is more engaging than some of the other variations available.
Can I try the game for free?
Yes, all of the best online casino sites have games available in free play mode. It's the perfect way to get familiar with a game before betting real money. While you can play for free, don't forget to take advantage of some awe-inspiring welcome bonuses available for real money play.