Super Fun 21 Blackjack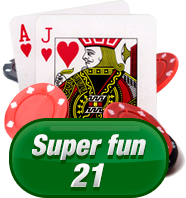 Super Fun 21 Blackjack is a fun online variation of the classic game usually played in live casinos but slowly being adopted online.
Popular with players in Canada due to its fast nature, Super Fun 21 is played with 1-6 decks and offers lots of cool bonus payouts for hitting certain hands.
While not available everywhere online, Super Fun 21 Blackjack is a great way to mix up your regular Pontoon or European Blackjack play while trying something new.
Try Super Fun 21 Blackjack online:
Usually played with a single deck for fast and furious action
Late Surrender option open to real-money CA players
Bonus winning hands give players a second chance to win cash
Outstanding bonuses for specialty hands and fast games with high intensity is what you get when you play Super Fun 21 with one to six hands.
Super Fun 21 Blackjack Rules
When you load a Super Fun 21 Blackjack app online, you'll notice a few subtle differences to normal European Blackjack.
The dealer stands on a hard 17 and hits a soft 17. Insurance (paying 2-1) is available if the dealer shows an ace and costs half your bet.
A Surrender bet, where you can get half your bet refunded if the dealer shows an ace, is also available. Splitting cards is possible, but CA real-cash players can only re-split once. However, if players draw a 10 onto an ace that has been split, they won't get a Blackjack.
Super Fun 21 Bonuses
However, what sets Super Fun 21 Blackjack online apart is the bonus payouts.
A blackjack only pays even-money, so this isn't the play. You need to go for the bonus hands paying 2-1. Make a six-card hand totalling 21 and you'll win 2/1 your money. If the hand has six cards totalling 20 or less, you'll win at even-money immediately.
In addition, a player's blackjack ALWAYS wins. A player blackjack in diamonds also pays 2/1 while all other blackjacks pay out 1-1 (even money).
Canadian gaming nuts should look out for side bets too. Odds of 300/1 are paid out if you get a diamond Blackjack hand.
Super Fun 21 Blackjack Strategy
As with any blackjack variant, Super Fun 21 Blackjack has some unique differences to conventional games which can be exploited.
Note the Number of Decks
Generally, although not exclusively, a Super Fun 21 Blackjack game is played with one deck. However, it can also be played with two decks, or six decks.
So, why should that matter? Well, when you consider the bonuses for hitting hands containing six cards, you realise how many more low cards will be contained in a six-deck shoe.
CA online casinos will always display how many decks are used in the game: make a note.
Concentrate on Low Cards
Low cards play an important part in Super Fun 21 Blackjack online. The extra 2-1 payout for a hand containing five or more cards (and totalling 21) is worth going for, as is the automatic win on a six-card hand worth 20 or less.
Focus on those extra payouts. And avoid doubling down with your low cards; you want to get six cards if you can help it.
Print a Cheat Sheet
This goes without saying, whatever you're playing, but when you load up a Super Fun Blackjack app, print out a cheat sheet first.
A cheat sheet will consist of a grid of the optimal plays during a Super Fun 21 Blackjack game depending on what your - and the dealer's - cards are.
Stick to Live Casinos
Super Fun 21 Blackjack isn't available everywhere online but some land-based casinos in the US will offer it. Do your homework first and find out where you can play the game.
Frequently Asked Questions
What is Super Fun 21?
Super Fun 21 is unique in that it is played with anywhere from one to six decks of cards. While it is much like its counterparts it is different in that one, there are possibly fewer cards to count and the dealer stands on a hard 17 and hits on a soft 17.
How is it played?
Not all that differently from standard online blackjack, but the fun comes in the form of extra bets and bonuses. In order to really move forward you will want to focus on bonus hands that pay 2:1. A six-card hand hitting 21 will pay 2:1. Player's blackjack will always win. Should you hit blackjack with all diamonds then get ready to win 2:1.
What are the odds like?
The odds for a blackjack are 1:1, even money, with bonuses such as all diamonds 21 paying 2:1.
Is there a real money option online?
Real money is the best option, and yes, it is very much available at all of the sites that we recommend to our readers. You can start playing through hands and building your bankroll right now!
Where can I play it?
You can find Super Fun 21 at any of our top rated Canadian online blackjack sites, among many other brilliant casino classics.
How much is it possible to win?
So much of your real money winnings come down to the size of your initial bets, bankroll investment, side bets, and luck. You can roughly work out your possible winnings, as payouts are either even or 2 - 1, once you've decided on the size of the bet you are willing to place.
Can I use a system?
Yes, you can absolutely use betting systems whilst playing online, however, it is worth noting that there isn't any individual strategy that will guarantee you winnings. They are worth testing out, and finding the best option for you, as they can help better game knowledge and small tips & tricks.
How does it compare to other variations?
Super Fun 21 differs from the more classic version of online blackjack in that it is the bonus hands you must focus on in order to win 2 - 1. These bonuses include making a six-card hand that totals 21 and a diamond suited blackjack.
Can I try the game for free?
Yes, there are always opportunities to play for free. Choosing to enjoy the free play version of Super Fun 21 will allow you to hone your skills without risking any of your real cash. You can practice systems and strategies to develop that winning edge, once comfortable in your skills you can move to real money play and aim for big winnings.