Multi-Hand Blackjack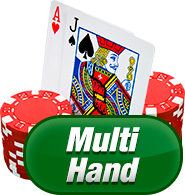 Multi-hand blackjack is great for Canadian online players who want a little more action! An excellent choice for players who think that one hand is never enough, multihand blackjack allows you to play five or even six hands at the same time. It's a top way of increasing your profits and helps you work off that welcome bonus even faster.
Features of multi-hand blackjack online: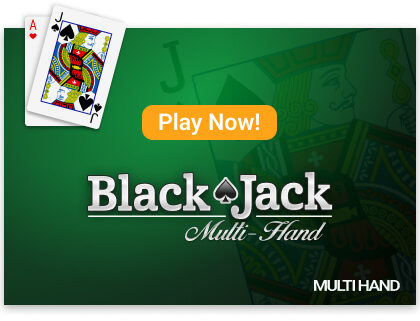 Multihand Blackjack Rules
Canadian blackjack players can play as many as six hands at once, with each one being a different variant in Multihand Blackjack.
First of all, it's important to note that not all variants of blackjack allow CA players to play Multihand.
Check the online casino lobby first to see what variations of the game allow extra hands. You can then make a better decision about what to play.
To place bets, open a table and move your chips to the open bet space. Most Multi-Hand Blackjack online lets you play up to five hands at once, or more accurately, in order. You don't need to make the same value real-money wager, and it may be possible to double down or split cards on whichever hand you choose.
Once the cards have been dealt to you, you'll make a decision on each hand in turn, starting from the hand on the right and working left.
Multihand Blackjack Strategy

Playing multiple blackjack hands is certainly not for the faint-hearted. Thinking about optimal strategy in one hand is hard enough, but concentrating on what to do in many hands is another thing entirely.
With some simple tips, however, you can come out a bona fide Multihand god.
Pick the Right Variant
Choosing the right game is important. Do you keep things simple with European Blackjack or Pontoon, or mix things up with multiple hands at a community-type game like 21 Duel? Whichever game you choose, you need to make sure the odds are always in your favour.
A variant like 21 Duel Blackjack is interesting. You can play up to three hands at once in the game, and both you and the dealer share two 'community cards' placed in the middle of the table. Because you have the advantage of betting on multiple hands you can make more measured decisions on making further wagers and side bets.
Print a Cheat Sheet
Do you know when to hit if the dealer shows a 15? Not sure whether to double down or split the cards if you're playing Multihand Blackjack?
Perhaps the easiest Multihand Blackjack strategy is to grab a cheat sheet.
With a simple 'cheat sheet', you can make quick decisions on ALL your hands in a second. Cheat sheets are easy to find online and will suggest the optimum move in any situation. You'll find charts for various blackjack games too (2-deck, 4-deck, 6-deck) so you can adjust accordingly.
Make Sure You Have the Bankroll
Bankroll management is smart Multihand Blackjack practice, regardless of your expertise. When you're playing more than one hand, it's essential to factor that into your overall stakes.
For example, if you're used to playing a single hand at $1 per hand, you should really have $100 set aside as a roll. But when you suddenly start playing three or four hands, you need to adjust the roll accordingly.
Don't think about playing three hands without $300 behind, $400 for four hands, and so on. With enough of a bankroll, you can handle the swings.
Learn to Card Count
As well as concentrating on many hands at once (hard enough) you need to learn whether decks are cold or hot.
While frowned upon in land-based casinos, card counting can sometimes be possible online (although many virtual Multi-Hand Blackjack apps shuffle decks after every hand).
Card counting basically assigns values to cards, with picture cards given a +1 and low cards a -1. CA blackjack players can then work out whether a table is worth continuing at.
Avoid Using Insurance
It's generally assumed that taking Insurance is a bad bet in blackjack. It's bad enough with one hand, but a terrible Multi-Hand Blackjack strategy.
Insurance allows Canadian gaming players to place an extra bet if the Dealer shows an ace face up. Your insurance bet, which pays 2-1, is paid out if the Dealer flips a picture card to make a 21 and win.
While playing safe sounds solid, it's just not worth the 2-1 odds. The actual odds of a dealer making his blackjack in 9/4, which means you'll lose out in the long-term.
Taking insurance over multiple hands, therefore, is a bad idea. Stick to solid Multi-Hand Blackjack practice and keep your bankroll where it belongs.
Benefits of Multihand Blackjack
So, why risk more with Multi-Hand Blackjack online?
Well, because you're playing more hands on the web, you have the chance to win more Canadian dollars faster.
Plus, you can work off a welcome or deposit bonus faster, meaning your account is going to look a lot healthier. But simply, playing a Multihand Blackjack game is just way more fun. And at the end of the day, that's what online gaming is all about.
Frequently Asked Questions
What is Multi-Hand Blackjack?
Multi-Hand Blackjack is a variant of the casino classic that lets you play with as many as five hands at once. Not only that, they can also be different variants at the same time.
How is it played?
Multi-Hand Blackjack is plaid almost identically to regular blackjack, with bets placed and then the cards dealt. The only difference is that the player is dealt a maximum of 5 pairs of cards instead of the regular 1 pair. Each hand can have a different wager and it is possible to split cards and even double down.
What are the odds like?
The odds are relative to the variant you are playing at a given time, in general the odds are even. Some varieties do offer a 3:2 odds for blackjack, while others are even odds and some are as beneficial as 2:1. Make sure you also play some of the side bets as these can prove to be very lucrative.
Is there a real money option online?
Yes, there is a real money option. It is important to remember that being able to find Multi-Hand Blackjack for Canadian players is not always an easy bet. Fortunately, we have gathered together some of the best online casinos that do offer real cash Multi-Hand Blackjack.
Where can I play it?
You can play it at any online casino that offers this variant and accepts Canadian players. Check out our recommendations for the best selection of Canadian gambling sites.
How much is it possible to win?
It is impossible to say just how much you will win, but the odds are better with this game than many other table games. The payout amount will depend on the size of your bet placed, but many people have been known to win huge amounts.
Can I use a system?
There are many systems that seem to work, some better than others. Interestingly enough, many players will swear by being focused and counting out the cards. When playing multi-hand that becomes a little more tedious. It is suggested to avoid insurance, and choose variants that you know are your best game.
How does it compare to other variations?
This variations is perfect for the person that wants to have it all. Speed, variety, and a little pressure to go the next level is a big part of Multi-Hand Blackjack.
Can I try the game for free?
The best online casinos offer most, if not all, of the games in free play mode. You can play it for free to either take a break from real money play or to try out a new strategy. Many love playing for free to pass the time, all the while learning a whole new variety.