European Blackjack Online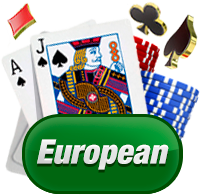 European Blackjack isn't available at every casino open to Canadian gambling enthusiasts, but it does offer a great alternative to American games.
European Blackjack has some interesting differences with the American version you'll find in most North American casinos.
There's no 'Surrender' option, of course, while doubling down is restricted. Meanwhile, what the dealer can do differs from the American style you may be familiar with.
Try European Blackjack online:
Easy to learn and play
Found at the best online CA sites
Played with 8 decks for extra fun action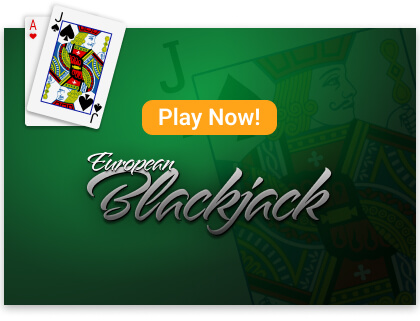 European Blackjack Rules
European Blackjack is played just like standard blackjack in most ways. At a good Canada Internet casino site, players place their bet on one to five places on the table and get dealt two cards face up.
The dealer will be dealt one card face up and one down. It's then your aim to receive cards ('hit') and get as close to 21 without going over, or 'Stand' and take no more cards.
If you get dealt a Blackjack (an ace and picture card to make a natural 21) players get paid real cash straight away at odds of 3/2.
Insurance bets are available, meaning that you win at 2/1 if the dealer makes his blackjack. Players can split cards, and can double down on 9, 10 or 11.
Differences between American and European Blackjack
Essentially, the main differences in real-money Internet European Blackjack is that there is no Surrender option, and players can ONLY double down on cards totalling 9, 10 or 11. In a standard American game, gamblers can double down regardless of their total.
The dealer's ability to hit or stand is also different. In American Blackjack, for example, the dealer stands on a soft 17, but in European they will stand on ALL 17 totals (and draw on 16). That means even soft 17s where one of the dealer's card is an ace.
Generally, hands in European Blackjack can only be split once (with no re-splits), but some online variants differ. It always pays to check the European Blackjack rules at your favourite online casino first before you play.
European Blackjack Strategy
Because the dealer in a European Blackjack game tends to stand on any 17, this can give you a pretty good clue what to do if you have 16. You can no longer rely on that 16 to win you the hand, as in other variants, so you may find yourself hitting for a small card to get closer to 21.
Not all online casinos that accept Canadian players offer European blackjack, but the ones that do are brilliant and listed here for your immediate enjoyment.
Saying that, the dealer usually must hit on 16, putting him in a tricky spot.
Because of the subtle differences between European Blackjack and other variants, it's important to get yourself a betting grid, or 'cheat sheet'. These are available widely on the web, and you'll find the optimal plays at every point in the game and for every hand you are dealt.
But Not All European Blackjack Is The Same...
OK, so you think you're ready to go, right? As a Canadian online European Blackjack aficionado you might think you're set.
But here's where things get a little complicated. Not all online real-cash European Blackjack games are equal. Some sites have software that features double downs on ANY two cards, while others restrict it to just 9, 10 or 11. In some variants, dealers can stand on any 17; in others, they must stand on soft 17s only.
Meanwhile, some European Blackjack rules say splitting can be done once, while other casinos allow re-splits.
Always check the games rules page first, then load up and take on the house for everything they've got.
Oh, and don't get seduced by card counting. Although most European Blackjack online is played with 6 or 8 decks, shuffling is done regularly to make it harder for counters to get a feel of the table.
Frequently Asked Questions
What is European Blackjack?
European Blackjack is very much like the standard American game, except there is no surrender option. Everything else is handled in the same way. There may be some additional side bets dependent upon the site you choose to play at.
How is it played?
Players are dealt their hand with both cards face up and the dealer is dealt one up and one down. With European Blackjack everyone must stand on 17 and the dealer must draw.
What are the odds like?
The house edge with this game is 0.62% and the odds are 3 to 2. Although this might not be the type of odds that you are looking for, they are in keeping with a standard blackjack game. The side bets offered are super fun and can boost your bankroll substantially.
Is there a real money option online?
Most definitely, it is all about the real money play. While many of the varieties out there can be a little difficult to find at most online gambling sites, this particular variety is available at the casinos we listed and for real money.
Where can I play it?
European Blackjack is not available at all online casinos and is one of the rarer finds. Fortunately for you, we've gathered up those that do offer it right here for you to browse through at your leisure.
How much is it possible to win?
It is possible to win at European Blackjack but to identify exactly how much is close to impossible as it is dependent upon a number of factors. Blackjack is your best bet when it comes to online casino games and many have made a great deal of money playing it.
Can I use a system?
Yes, you can use a system and there are some great ones out there. Not all systems work as well in every situation so it's always a good idea to become familiar with a wide variety and try out many before settling on the one that fits you best.
How does it compare to other variations?
European Blackjack is pretty similar to other variations of the classic table game, except for the fact that there is no surrender option. Also, unlike other games where the dealer has to stand at 17, in this version they must hit.
Can I try the game for free?
Blackjack games are often available in free play. This is highly recommended when trying a new system or learning a new variety of blackjack for the first time. Remember, the longer you play it for free the further you are from doubling, even tripling, your bankroll.