Double Attack Blackjack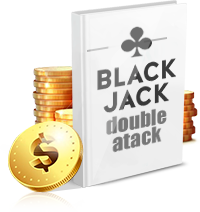 Available at certain Canadian online casinos, Double Attack Blackjack plays a little like American Blackjack save for some interesting side bets.
Blackjacks are paid even-money and Insurance is available, but it's the range of sick side action that keeps CA real-money Double Attack Blackjack online players coming back for more.
If you have played and enjoyed Spanish 21 Blackjack, you'll get a kick out of a Double Attack Blackjack game. And fun, intriguing variants are what gambling on the web is all about, right? Let's take a look at this unique Internet blackjack variation.
Available at Canadian Internet casinos
Wide range of bets possible
Exciting side bets like Bust It!
Double Attack Blackjack Rules
Double Attack Blackjack is played like regular Spanish 21 Blackjack. That means the 10s have been removed and eight decks are used.
After placing a bet on the table, you will be dealt two cards. As in European or American Blackjack the dealer receives one card face up and one card face down.
Start enjoying Double Jack Blackjack, the crazy game where all 10s are removed and even money winning is made more exciting the more cards you get.
The aim is to receive more cards and get as close to 21 as possible without going bust. Aces count as 1 or 11 as standard, and the picture cards 10.
Insurance is offered to players if the dealer shows an ace face up, and a natural blackjack pays out automatically (although it only pays even-money rather than 3/2).
Bust It! Side Bets
Here's where things get interesting. After you've seen the dealer's up card, CA players have the chance to place an ADDITIONAL bet on the side.
The 'Bust It!' side bet is an extra real-cash bet on the dealer busting with three cards (and three EXACTLY).
If the dealer obliges and busts after his third card is drawn, you will be paid out according to a specific paytable.
Although they may vary from site to site, generally the Bust It! payouts are as follows:
If the Dealer busts holding:
A face card - 3/1
A nine - 6/1
An eight - 8/1
A seven - 10/1
A six - 15/1

In addition, you will receive 50/1 your money if the dealer shows 8-8-8 of the same colour, and 200/1 if he has 8-8-8 of the same suit.
Other Special Bets and Features
In Double Attack Blackjack, the dealer always stands on all 17s. Doubling down is allowed, and players may split. Surrender and Insurance bets are also available.
Double Attack - A Double Attack is an additional wager CA players can make after they've seen the dealer's up-card. This can be equal to, or less than, your initial wager.

Surrender - As in other online variants, a Surrender bet earns you have your stake back once you've seen the dealer's first card.
Insurance - Placing an additional 'Insurance' bet insures against the dealer holding a blackjack. The dealer must have an ace up-card for you to be able to bet on Insurance, and if the dealer makes his blackjack you'll be paid out 5/2.
Double Attack Blackjack Strategy
A blackjack only pays even-money in Double Attack Blackjack online games, so these shouldn't be your focus.
Rather, you're utilising those Double Attack bets to punish the dealer who looks in trouble with his up card. Look at the dealer's up card before placing a Double Attack wager and use an online Cheat Sheet to work out when to take out the bet.
As always, avoid the Insurance bet. The odds of the dealer actually having a blackjack are always way higher than the payout you'll receive if he hits it.
Having the Right Bankroll
It's good to get some Double Attack Blackjack practice in on the web before you get out your gaming bankroll.
The intriguing side bets make the game a little different to conventional American and European Blackjack so it's important to try out free-play CA gambling sites first.
However, once you're up with the Double Attack Blackjack rules, there's nothing to stop Canadian casino nuts crushing the house and raking in a massive payout.
Frequently Asked Questions
What is Double Attack Blackjack?
Double Attack Blackjack is very similar to regular Spanish 21. All of the 10's have been removed and eight decks are shuffled into this game. Double Attack refers to the additional wagers players can make after seeing the dealer's cards.
How is it played?
You begin by placing your bet. Just like traditional blackjack, the dealer gets one card face up and one down. After seeing the dealer's card additional wagers can be made up to the amount of the original bet. There are also some very exciting side bets associated with this game that could help you beat the house.
What are the odds like?
The odds are even money for blackjack but there are some fun side bets such a 50:1 bonus if the dealer gets three eighths of the same color and a 200:1 bonus for three eights of the same suit.
Is there a real money option online?
Real money blackjack is where it is at, and Double-Attack is no different. You'll find Double Attack available for real money at our top online blackjack sites for Canadian players.
Where can I play it?
You will not find this variety at many land based casinos but, rest assured all of our top online recommendations do offer this variety and many others.
How much is it possible to win?
This is always dependent on the size of the bets you're placing. It is possible to win 200:1 if you are really lucky on some of the side bets, the general idea with blackjack is even money betting. There are those who have made some substantial winnings playing blackjack.
Can I use a system?
Systems and strategies work for many people. Most who have tried them will be the first to say they swear by them. However, they will also say that they don't use only one system but, many. It is also worth noting that there is no known strategy that allows for 100% wins.
How does it compare to other variations?
Double Attack Blackjack is a little more complex and is aimed at advanced players for that reason. This is not to say that novices shouldn't give it a go, but you may want to study some of the strategies shared on this site to get a better feel for the game before you go all in.
Can I try the game for free?
Double Attack is available for free play at most of the online blackjack sites that we recommend here. If you are new to this game then it's a great idea to play it for free, check out a few strategies, and develop a plan of attack before going in for real money play.