Double Exposure Blackjack
Double Exposure Blackjack is an interesting twist on conventional blackjack in that CA players get to see BOTH the dealer's cards.
That means that before the game starts, the dealer shows TWO up-cards instead of the usual one.
While this gives the dealer a massive disadvantage during a Double Exposure Blackjack game, the balance is restored slightly by the house edge going up a little.
Before you get that Canadian bankroll out and hit the Double Exposure tables hard, let's take you by the hand and show you a few of the basics.
Try Double Exposure Blackjack online:
Wide availability for real-money on the Internet
See both the dealer's cards
Good for casual Canadian online gamblers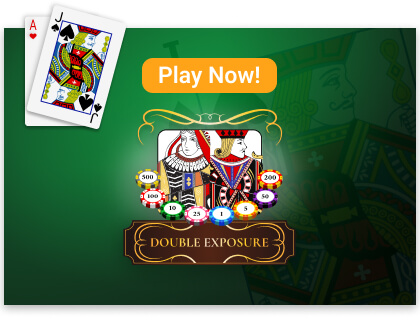 Canadian players that can't stand to wait and find out what the dealer's cards are will love this blackjack variety, and we're sharing the hottest Double Exposure sites right here.
Double Exposure Blackjack Rules
How annoying is it to only know one of the dealer's cards? Well, in a Double Exposure Blackjack game, you get to see both the dealer's cards.
Double Exposure Blackjack is usually played with 6 to 8 decks, depending on the casino.
At the beginning of a hand, once the bets have been placed, both the player's and the dealer's cards are exposed. Play continues as normal until one has won.
But while the CA player has an advantage in seeing both the dealer's cards, he pays for it with lower payouts. In the case of a tie, instead of the player getting his stake back, the dealer wins (unless the player gets a natural blackjack). In addition, a blackjack doesn't pay 3/2 but even-money (1/1).
Splitting is also drastically reduced, with players only allowed to split once during a hand. You can double down, but only on a starting hand totalling 9, 10 or 11.
Double Exposure Blackjack Strategy
Ready to download that Double Exposure Blackjack app today? Hold your horses. Before you try this interesting Canada gaming variant on the Internet, arm up with some valuable tips first.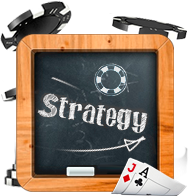 Make Sure You Know the House Rules
Real-money Double Exposure games can vary from casino to casino, so make sure you know the tweaks before you play.
While the dealer standing or hitting on a soft 17 might not sound like a big deal, if he stands the player's edge goes up by almost half a percent.
In some CA gambling casinos, meanwhile, a tied hand may push or the player may even win. This can mean the difference between sitting down or giving the table a wide berth.
Watch Out For Ties
In conventional Blackjack, a tied hand will be 'pushed', that is, the player gets their stake back.
In a Double Exposure Blackjack game online, though, the dealer usually (but not always) wins the tie. Blackjack ties do go to the player, however, so attack that dealer's 20 whenever you can. Because simply matching the dealer's 20 loses you the hand, it's worth hitting again to beat his total.
One thing to note is that a Blackjack in Double Exposure only pays even money, making it far less important than simply winning. Beating the dealer is the only thing that matters!
Grab a Cheat Sheet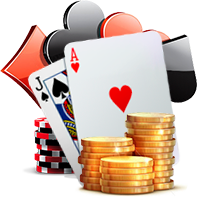 It's important, as with any Double Exposure Blackjack online variant, to print off a basic betting strategy grid before you play.
These 'cheat sheets' will display the optimal hands to play in every position during the game. This way, you can work out when it's sensible to stand, when you should hit or split, and when you should double down.
Benefits of Double Exposure Blackjack
So, why would you play Double Exposure Blackjack online if the blackjack only pays 1/1 and a tie isn't pushed?
Well, information is key in this variant. Just think about the room you have if you already know both the dealer's cards. You can decide to split, double down, or take Surrender insurance.
If you're a Canadian Internet casino fan playing Double Exposure Blackjack online, you can take advantage of real-money bonuses just by playing the game.
Many online casinos accept Double Exposure Blackjack contributions towards their bonuses. That means you can play through hours of Double Exposure, work off a bonus requirement, and earn lovely free CA real cash.
Frequently Asked Questions
What is Double Exposure Blackjack?
How many times have you wished that you could see both of the dealer's cards instead of just one? Well, Double Exposure requires the dealer's cards to be face up, giving the player an even better chance of beating the house.
How is it played?
After wagering takes place, the dealer deals two cards to each player as well as themselves. Both of the dealer's cards are face up. The dealer continues to deal out cards until someone hits 21 or the closest hand.
What are the odds like?
The odds on a blackjack are 1:1, instead of 3:2, which can be a bit of a turnoff to many. However, this smaller payout is understandable given the brilliant opportunity to make more informed decisions. In the event of a tie, the hand goes to the dealer.
Is there a real money option online?
Yes, Double Exposure is available for real money. You'll be able to find this brilliant blackjack variant at all of the online casinos we've listed here at OnlineBlackjack.ca.
Where can I play it?
You can play Double Exposure Blackjack at many of the best online casinos out there. Pick from our list of top recommended sites and you'll be able to start enjoying this great blackjack variation.
How much is it possible to win?
It is hard to say how much you can actually win because so much of it depends upon luck as well as the size of the bets that you're placing. There are cases where people have doubled their money and even won millions at blackjack. It's often considered to be the best game when it comes to house edge.
Can I use a system?
Basic betting strategies are probably the best system for Double Exposure. It is also often advised to employ a strict bankroll management system to ensure that you never play beyond your means. Try out a few strategies for size before deciding on the best one for you.
How does it compare to other variations?
It is a fun variation and for many it is a perfect way to take a break from some of the more complex varieties.
Can I try the game for free?
Absolutely, almost all blackjack varieties are offered in free play modes. The online casinos that we recommend to our readers allow them to test out games in a free play mode before committing to real cash play.