What is Spanish 21 Blackjack?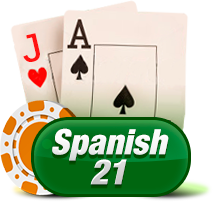 Spanish 21 Blackjack could well be the best variation of the game you've never heard of! With a low house edge & lots of added side bets and allowances, Spanish 21 is a terrific online variation of blackjack that offers CA players one of the best games around.
A Spanish 21 Blackjack game is played without the 10s included, giving it a huge twist compared to other types of the casino game.
While savvy CA gamblers need to make slight alterations to their gameplans, with a few handy hints and a sensible bankroll, real-cash players can turn their online blackjack play into megabucks.
Spanish 21 Blackjack Rules
How We Rank
Our dedicated team have carefully rated and reviewed sites on a variety of factors:
Bonuses & Promotions
Quality of Games
Fast Payouts
Security & Reliability
Spanish 21 is played with 6-8 decks, and the tens are discarded. While these high cards make it more difficult for the player, the balance is restored (to a certain extent) by adding some pretty nifty features.
Players can split their cards, and re-splitting is allowed up to three times. While you won't find a Multi-Hand format of the game online, re-splitting effectively gives CA real-cash players more hands to play with.
Aces can also be split, while doubling down is permitted too. In fact, doubling down is also allowed even if you've split already.
Insurance bets are offered (paying 2-1 if the dealer makes his blackjack) while players can also Surrender and lose half their bet in order to throw away the hand.
The key thing to note in Spanish 21 Blackjack is that the dealer always hits on a soft 17. Plus, the player's blackjack always beats the dealer's blackjack - something you don't see in regular blackjack games.
Spanish 21 Blackjack Strategy
The usual tips apply when enjoying Spanish 21 Blackjack online: employing sensible bankroll management, finding a good casino site that has solid security and reliable cash-outs, plus good software.
But because of the unique way the decks are compiled, there are a few solid tips to remember when you play.
Remember to Factor in the Missing Tens
Card counters, look out! Because a 6-deck Spanish 21 Blackjack game has the tens missing, if you're card counting you'll have to factor that in to your count.
Low Cards Are Your Friends
Huge welcome bonuses and a wide variety of blackjack, including Spanish 21, awaits you at the best online casinos for Canadians.
Because the tens are removed, you'll be relying on forming hands of lots of low cards. Make good use of those 2s and 3s to make a 21. A sensible Spanish 21 Blackjack strategy is not to surrender your 2s. Keep taking cards and try to get a winning hand.
Make a Note of Special Payouts
If you read the Spanish 21 Blackjack rules, you'll be aware of lots of special payouts in the game. For the following winning hands, you'll earn special payouts of:
3/2 for a 5-card hand
2/1 for a 6-card hand
3/1 for a 7-card hand
3/2 for a 21 using three sevens
2/1 for a 21 using three sevens of the same suit
3/1 for a 21 using three seven of spades
50/1 for a 21 using three sevens when the dealer shows the remaining 7. Other players may earn a bonus as well.
Print Out a Cheat Sheet
Because your optimum plays in Spanish 21 Blackjack differ to regular European Blackjack, your strategy charts alter too.
Find a good cheat sheet online first before you play for CAD real-money. On it you will find the best plays depending on what you're dealt and what up-card the dealer is showing.
Benefits of the Spanish 21 Blackjack Game
While you won't be hitting too many blackjacks in Spanish 21, the use of low cards and bonus payouts make the game more interesting than standard Blackjack.
So, print out a cheat sheet showing optimal play in a Spanish 21 Blackjack game and make your bankroll go even further.
Spanish 21 is sometimes eligible towards a real-money welcome bonus on the Internet. If so, you can play the game with our top strategy and come out the other side a bona fide Canadian blackjack champ.
Frequently Asked Questions
What is Spanish 21?
Spanish 21 is a variant that involves a little more fancy footwork. For example, dealers must always hit on 17 and there are always either six or eight decks of cards. All of the 10's are removed from the deck to make it even more interesting.
How is it played?
Players can split their hand up to three times with Spanish 21 and can split Aces as well. It is also good to know that the player's Blackjack will always beat the dealer's Blackjack.
What are the odds like?
The insurance bet pays 2:1 and the standard 3:2. The house advantage is really low in this online blackjack variant and there are some awesome side bets that can really boost your bankroll.
Is there a real money option online?
Yes, there is a real money option. Although it is not easy to find this variant, you can be assured that the online casinos and online blackjack sites listed here offer Spanish 21.
Where can I play it?
You can play it at anyone of the awesome sites listed on this review page. Our recommendations cater to the Canadian blackjack player.
How much is it possible to win?
Well, if you are lucky and win one of the 50:1 side bets your bankroll will increase pretty quickly. There are many factors that lend themselves to how much you will win. The house edge is pretty low with this game so that gives you the winning edge.
Can I use a system?
Yes using a system is allowed. You may want to count cards to the best of your ability and remember there are no 10's in this game. Some of the other things that you will want to focus on is getting as many small cards as you can, especially for those nice side bets.
How does it compare to other variations?
It is a great deal of fun and there are some special twists and turns to this game to keep it lively and engaging. Your chance of winning is pretty high with this particular variant of blackjack.
Can I try the game for free?
Yes, this and many of the blackjack variants are available in free play on most of the online sites that are featured on this page.