Guide To Online Blackjack Casino Cashouts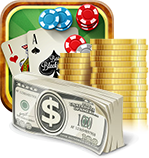 There's only one thing better than winning a bunch of CA dollars playing online blackjack; getting your winnings out fast.
Blackjack cash-outs should be quick and pain-free. And what's more, Canadian gamblers like you shouldn't have to incur nasty fees when they withdraw.
The blackjack casinos below offer cash out feature such as:
Fast withdrawals - cash in a day or two at most
Safe, secure & convenient options
Excellent service for any questions
Best Online Blackjack Sites for Fast Cashouts
How to Make CA Withdrawals
If you're playing real-money blackjack, cashing out is as easy as visiting the Cashier and selecting a secure banking option.
To complete a withdrawal, select a method from the drop-down list in the casino Cashier and enter the amount you want to cash-out.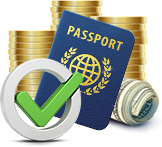 A few things to remember at most Canadian blackjack sites:
Withdrawals can take 24-48 hours to process
There may be fees attached
You may need to send documentation to prove your ID
Once you've completed the CA web cash-out request, hit the Submit button and wait for your money.
Best Methods for Real-Money Cashouts
It's worth checking the Cashier before you select an Internet withdrawal method, as every banking option carries with it a different set of fees and limits.
Debit cards, for example, have quick withdrawal process times (3-5 business days, on average) and low limits so you won't have to wait until you have hundreds of bucks available in your gambling account.
A bank or wire transfer, meanwhile, may take longer (around 7-9 business days) while a personal check can take weeks. It's a balancing act to weigh up the security benefits of one against the time you'll be waiting for your money.
Verification and Fees
With some Internet blackjack websites, you may need to provide ID verification before a withdrawal can be made. This is usually pain-free and just requires a copy or scan of a driver license or passport as proof you are you say you are. Once you've sent the casino the documents they will process your blackjack cash-out request.
Withdrawing your real cash winnings is the most important aspect of gambling online, top quality sites will offer cashouts in less than 48 hours.
Fees are also something to mindful of. While a good CA online blackjack casino will usually waive withdrawal fees, the same may not be said of your bank or wallet provider. If you use an e-Wallet, for example, you may have to pay a fee before withdrawing cash into your bank account.
As always, check the Cashier for any fees, as well as your e-Wallet or debit card provider. Fees can range from a flat fee to a percentage of the cash-out amount. And when you take that away from your winnings it can add up to a lot.
In With One, Out With Another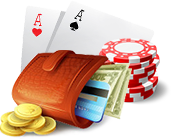 Sometimes, withdrawing is a game of cat-and-mouse. You might be better off playing the 'in with one, out with another' game, depositing via one banking option and cashing out with another to avoid fees.
For example, an e-Wallet deposit may be free but a cash-out won't be. So, you'll need a back-up option in place like a prepaid voucher or credit card.
Don't forget the 'Net Deposits' rule that some online casinos operate too. This is a system to avoid fraud that insists that all cash-outs are made to the same card or wallet that was used to deposit with.
So, if you're depositing with a credit card, make sure your card allows cash-outs, otherwise you will probably be sent funds via a personal check. Credit cards are notorious for denying withdrawals, and that's the kind of knowledge you need to have at hand.
Making Real-Money Blackjack Cash-Outs Work
Real-cash blackjack online for Canadians should be a fun, pain-free experience. But some banks and payment processors still won't play ball when it comes to gambling on the web.
As a smart Internet blackjack player, it pays to have multiple weapons in your arsenal. Check the Cashier before you load up, read the Ts & Cs of that e-Wallet you just signed up to for any fees, and decide if you're happy with a 3-week wait for winnings or if you'd rather go for the fast option every time.