Live Dealer Blackjack Strategy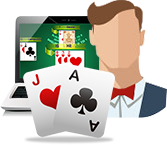 If you're looking to win at online blackjack, live dealer strategy could help you win even more.
Live Dealer online blackjack is the great game that lets Canadians play against a human dealer controlling the action from a studio or land-based casino.
And because the action is overseen by a human, you can make smart strategic decisions to make more cash.
How Live Dealer blackjack strategy can win you more:
Learn card counting just like in a land-based casino
Learn when to hit and when to stand
Make the most of CAD casino bonuses
How Live Dealer Blackjack Works
Those who say there is no method to winning with blackjack have never explored our live dealer strategies, winning big all comes down to strategy.
Live Dealer blackjack is played online but uses a human croupier working at a physical table in a real-life casino or studio.
The action is directed by the dealer as they shuffle the cards (using an automatic shuffler) and deal them out to the players' 'spaces' on the table. Microchips in the cards are picked up by the table and the graphics are displayed on players' monitors.
Players then make real-money bets and stand or hit in the usual way. The human dealer will also take cards or stand depending on their cards. Any winnings are then paid out automatically by the casino to the winning hands.
Good Blackjack Live Dealer Strategy
While Live Dealer blackjack is essentially the same as blackjack you'd play in a brick n' mortar casino, there are some ways of beating the house.
Pick the Right Game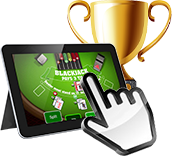 The first thing to know is that blackjack has a much smaller house edge than other table games. But because there are so many variants available to Canadian players online, you can take advantage by picking the right games.
Find out before how many decks are being used, and whether the dealer hits or stands on a soft 17. These nuances can alter the house edge dramatically.
For example, a 4-deck blackjack game where the dealer stands on a soft 17 can make the house edge 0.44%. An 8-deck live dealer blackjack game where the Dealer can hit on a soft 17, meanwhile, increases the house edge to 0.74%.
Watch out for sites offering Unlimited Blackjack. These are tables where an unlimited number of players are allowed to play at once. Because of that, the casino will perform certain moves automatically, such as splitting your cards. Automatic splits can be 'folded', with a portion of your bet refunded.
Pick the Right Stakes
Good bankroll management is essential when playing Live Dealer Blackjack. Strategy needs to be employed where you don't risk your bankroll all at once.
Generally, Live Dealer games carry higher stakes than regular blackjack games, so it's vital you stick to a betting plan when you play.
Print Out a Cheat Sheet
Not sure when to stand and when to hit? Because you're sitting at home alone, print out a 'cheat sheet'.
Blackjack cheat sheets are widely available online, and they're simply grids which give you the optimum plays depending on yours and the dealer's cards.
You don't have to worry about having the pit boss shout at you in a casino when you have a cheat sheet; just print out one and keep it by your keyboard. Just follow the grid to see what the sheet suggests is the optimum play.
Card Counting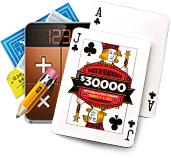 You've seen the MIT teams bring down the house with their card-counting exploits. And while card counting is difficult, it's possible to do from the comfort of your own home.
With the benefit of a webcam live stream, you can see the real-life shoe of cards being dealt from and shuffled.
It's important to know whether a dealer shuffles the whole shoe after every hand (some do) but if not, it is possible to gauge how 'hot' or 'cold' a deck is.
Card counting is essentially working out whether the next cards drawn will be high or low, and how many of each have already come out. A hot, 'stacked', table will have a lot of high (good) cards while a cold table will have a lot of low (bad) cards about to come out.
Card counters are usually banned from land-based casinos if found out, but it's easier to hide online. Of course, the only problem you will have is finding a CA blackjack site that doesn't shuffle its decks that often.
Play For Free First
The beauty of online Live Dealer blackjack games is that you can try them out for free first. There are no more expensive lessons with the Internet: just try out some Live Dealer without risking a penny before jumping in with your bankroll.
One more word: deposit bonuses sometimes neglect Live Dealer blackjack from their eligibility lists. If you're working off a welcome bonus, a good Live Dealer blackjack strategy is to mix the game up with some regular blackjack games too. That way you can enjoy a range of top CA gambling action and earn some lovely bonus loonies at the same time.