Prepaid Visa and MasterCard Blackjack Casinos Online
If you're looking for a blackjack casino online in Canada, that doesn't require you to share any of your personal financial information to make real money deposits, than you need a prepaid Visa or Prepaid MasterCard Online Blackjack Casino.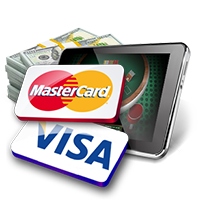 Making deposits via a prepaid Visa or MasterCard offers:
Total anonymity as no personal information is linked to the prepaid card
A quick and easy way to play real money Blackjack in Canada
Bonuses and rewards for depositing using a prepaid Visa or MasterCard
Peace of mind security that your sensitive financial data is never shared
Funds in your account instantly using your prepaid card as payment
The scope of online Blackjack casinos accepting prepaid Visa and MasterCard in Canada is vast, but we've put them to the test to bring you the best in Blackjack prepaid MasterCard and Visa casinos online in Canada today.
Best Blackjack Casinos Accepting Prepaid Visa and MasterCard Payments
Making deposits to your online blackjack casino account using a prepaid Visa or MasterCard fin Canada follows much the same principle as using a regular bank card. You just need to enter the details on the front of the card, including the long card number and any issue and expiry dates, to link it to your online casino account.
Once the card is registered, you'll be able to make real money deposits to top up your Blackjack bankroll. So it's an incredibly simple and straightforward payment method to get your head around, as Canadian players will already be familiar with making payments using a traditional debit or credit card.
The key difference with a prepaid Visa or MasterCard versus say your regular checking account card, is that a prepaid card offers total anonymity as none of your personal data is ever printed on the card. Nor for that matter is the card linked to an account in your name, so it offers complete security for making online deposits in a blackjack casino.
The other benefit of using a prepaid Visa or MasterCard card is the card actually comes preloaded with a set amount of real Canadian dollars, so you'll have a predetermined limit to what you can spend - much like with a store gift card. And once it's gone, it's gone, so there's no danger of you running up huge credit card debts that you'll be liable to pay later. As with a prepaid Visa or MasterCard the balance updates in real time and you can't exceed the amount preloaded onto the card.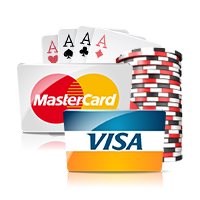 Playing Blackjack At A Prepaid Visa or MasterCard Casino Online
Getting started playing for real cash at an online MasterCard or Visa Blackjack casino in Canada couldn't be easier. You can find prepaid Visa or MasterCard's, preloaded with set amounts of cash, widely available throughout Canada, in superstores, grocery stores, banks or even by ordering online and having them delivered direct to your door.
Once you have your prepaid Visa or MasterCard you'll need to open up an account with the Blackjack Casino online you want to play at. Be sure to select from our top rated list of Blackjack online casinos for Canadians to guarantee you're playing at a reputable and legitimate site that accepts prepaid Visa and MasterCard as a payment method for making deposits.
You can deposit in instalments or just transfer the total amount on the card in one lump sum. The money will register in your online blackjack account instantly so there's no waiting around to get starting playing. One tip to be aware of - not all prepaid Visa and MasterCard's are applicable for international use, so pay close attention to this when making your selection to ensure the card you're attempting to use can be processed at your online blackjack casino of choice.
All of the blackjack casinos we recommend offer great welcome bonuses and incentive rewards to Canadians depositing funds using a prepaid Visa or MasterCard, so be sure to take advantage of these when you sign-up to play.
FAQ's
Our frequently asked questions cover off everything you need to know about using a prepaid Visa or MasterCard to make real cash deposits in a Blackjack casino online in Canada.
What is a prepaid Visa or prepaid MasterCard?
Prepaid Visas and MasterCard's are cards that come loaded with a pre-set amount of real Canadian dollars.
How do they work?
They work in the same way as a traditional bank card or a store gift card. Only you can't exceed the amount on the card so your spending capacity is capped. To use a prepaid Visa or MasterCard in an online casino you just need to enter the details on the front of the card and nominate the amount you want to deposit into your casino account. The amount cannot exceed the value of the card.
Do they allow online blackjack casino payments?
Yes absolutely. Prepaid Visa and MasterCard's are an incredibly popular method for Canadians to add funds to their online blackjack casino account. Any site that accepts Visa or MasterCard will accept prepaid cards issued by these card issuers.
Will I have to pay any fees?
Normally yes. Though the amount is usually a very nominal and low transaction fee the blackjack casino implements for making deposits using this type of prepaid payment card. It's always advised to check what the transaction charges are with the casino before you make your first prepaid Visa or MasterCard deposit.
How do they compare to other platforms?
Using a prepaid Visa or prepaid MasterCard is as safe as using a bank transfer as there's no link to any of your personal information and no sensitive financial data is shared with the blackjack casino itself so you retain your anonymity 100%. However, bank and wire transfer deposits normally take days to register in your account and are subject to very steep transaction fees to process, whereas a prepaid card offers the same security but with lesser fees to pay and you receive the real cash in your blackjack casino account instantly.
Are my personal details safe?
100% yes. The prepaid cards are totally anonymous. They don't link to you in any way so you're not sharing any personal sensitive data online when you make a deposit at an online blackjack casino this way.